Situated in the East Central part of Volusia County, Florida, DeLand was once known as Persimmon Hollow. With its natural beauty, charming community and central location, DeLand has become a hub for events, restoration, and entrepreneurship. When DeLand was founded in the mid-1840's, its benevolent founder, Henry A. DeLand, had one goal in mind – to create a town based on culture and education. Fast forward to 2017 and DeLand is still a town centered around these two ideals. Whether strolling down America's Main Street, visiting Stetson University, or touring homes in the vibrant historic district, there are so many reasons to Live Love DeLand. Here's Kemp Realty Group's Top 5.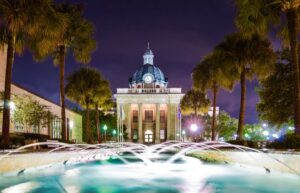 Lifestyle
DeLand has residents of all ages and life stages, including college students, retirees, and young families. Whether you're looking for walking distance to shops and restaurants, waterfront, active adult, golf, acreage, or luxury, DeLand has a lifestyle you can home in on.
Home-Style Variety
From cottages to mansions, DeLand has a home for everyone. For the lover of older homes, the historic district couples old-world charm with walkable convenience. The urban-inspired, pedestrian-friendly Garden District is where local artists take root, and the Glenwood area gives homeowners room to roam with acreage and rolling hills.
Local Feel
There's a reason downtown DeLand was voted America's Main Street in 2017. Woodland Boulevard is peppered with smiling, friendly faces and locally owned restaurants flanking both sides of the street. After a day of perusing unique artisans, locals love to relax with a glass of wine at the Elusive Grape, aka "DeLand's Living Room." Another favorite, the Artisan Alley Friday Night Farmers Market, is a haven for locals and visitors seeking fruits and vegetables grown by local farmers, locally roasted, ethically sourced coffee, and fresh baked bread.
Outdoor Beauty and Activities
Known as the "Skydiving Capital of the World," DeLand offers truly unique outdoor activities in the backdrop of old-Florida beauty. From natural springs to playgrounds to year-round festivals the outdoor fun never ends. The outskirts of town is home to one of the most beloved and unique places in the area – the Old Spanish Sugar Mill at DeLeon Springs State Park. Visitors love to flip pancakes on the bank of Lake Woodruff and cool off in the refreshing spring water. Nestled on the eastern shore of the St. Johns River, DeLand is also a boater's paradise!
Convenient location
One of the most appealing aspects about DeLand is its central location. Whether you're visiting or living here, DeLand is only a 40-minute drive to Downtown Orlando and about 30 minutes to Florida's East Coast beaches, including New Smyrna, Daytona and Ormond.